In mid-April students will begin LEAP 2025 testing. Click the links below for some parent information about these tests provided by the Louisiana Department of Education. For more info on LEAP 2025 testing, you can visit Louisianabelieves.org. Click the link to view the parent guide to LEAP 2025
https://5il.co/1q7bl
or click here for the Spanish version
https://5il.co/1q7bp

Last night the Lincoln Parish School Board approved the 2023-2024 school calendar! To view the calendar for the next school year, click the link provided.
https://5il.co/1ow2j


For those of you who are in need of Ruston High School uniform t-shirts or sweatshirts, we have opened a store. The store will remain open until Friday, January 27. The items will be passed out at school around February 13. For any questions regarding this sale, you may contact Mrs. Hudson at the school.
https://stores.inksoft.com/Ruston_High_School_22-23_Round_4/shop/home

Senior Cap and Gown pics will take place on January 24 and 25, 2023 in the auditorium. Students will go with their English classes.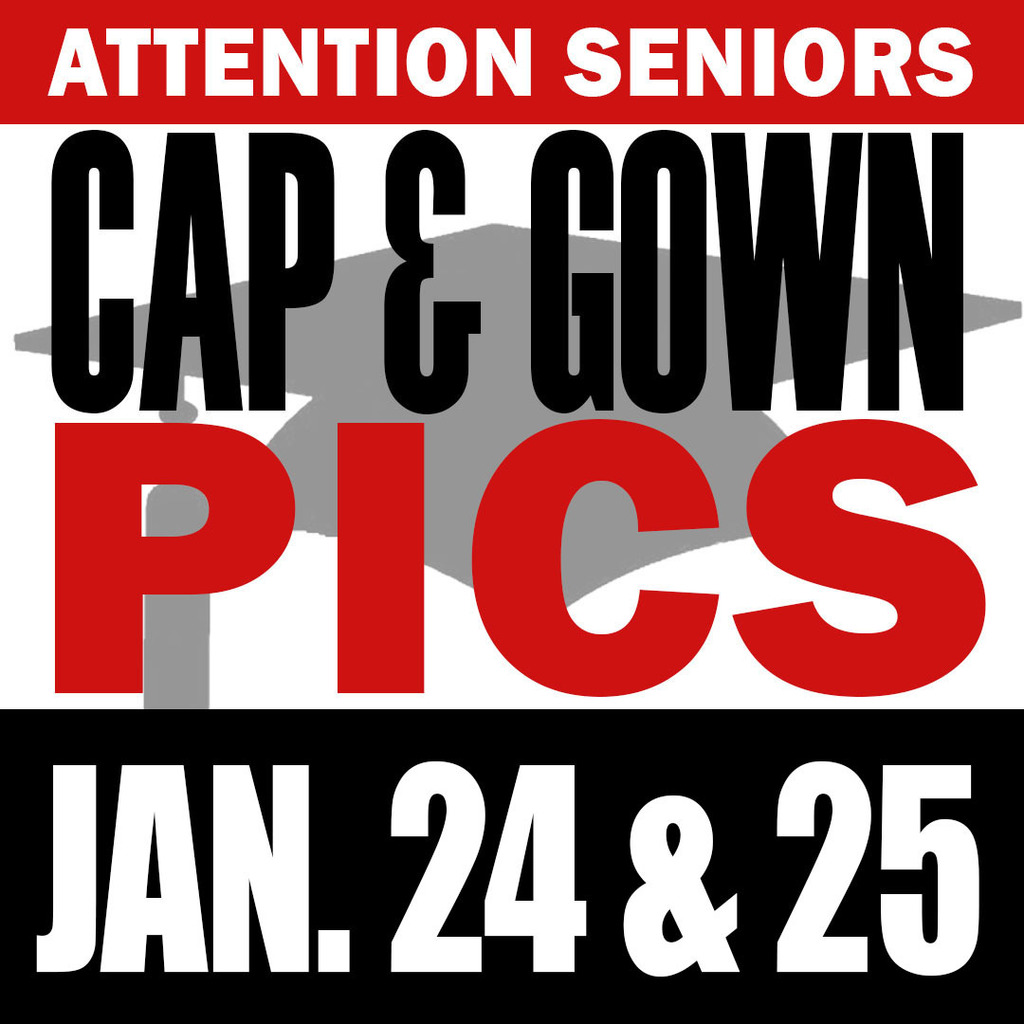 Attention Seniors! It's time to order your cap and gown for graduation. See the flyer for more information.

Ruston High School will have Open House on Tuesday, September 20th, at 6:00 pm. We will not meet in the auditorium this year. We will have counselors and assistant principals at tables in the lobby passing out schedules. When you pick up your child's schedule you will go directly to 1st period. We will begin passing out schedules at 5:45 pm. Boys and Girls PE classes will meet in the Auxiliary Gym (Girls Gym). Advisory will not meet. Athletic PE classes will not meet. The bell schedule is as follows: 1st - 6:00-6:06, 2nd - 6:10-6:16, 3rd - 6:20-6:26, 4th - 6:30-6:36, 5th - 6:40-6:46, 6th - 6:50-6:56, 7th - 7:00-7:06. Go Bearcats!!!

Please join us for RHS Open House on September 20, 2022 at 6:00 PM. You can meet your child's teachers and tour the school. See you there!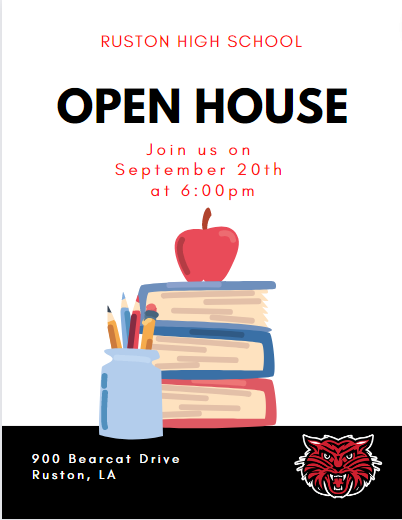 See the flyer for College and Career Night information.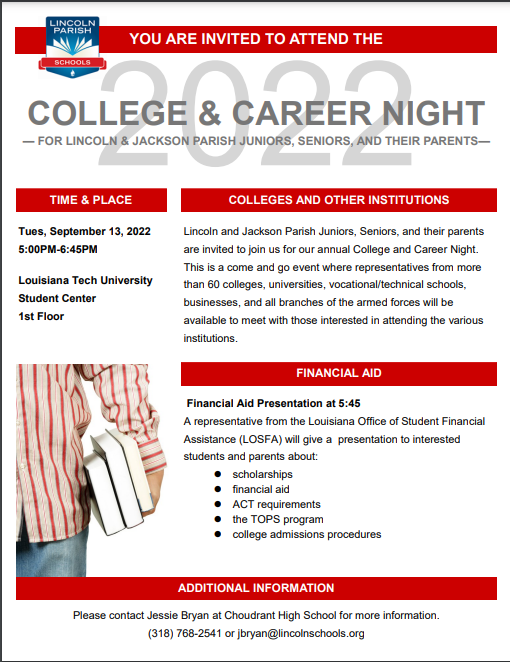 We are excited to announce that Ruston High School is making the transition to School Cash Online to make it more convenient to pay students' school activity fees. We encourage you to go ahead and set up an account and pay your $25 school fee before prep days on August 9 and 10. Reminder: Seniors will also pay a $10 graduation fee. Use the QR code below or visit
https://lincolnparishschools.schoolcashonline.com
to register.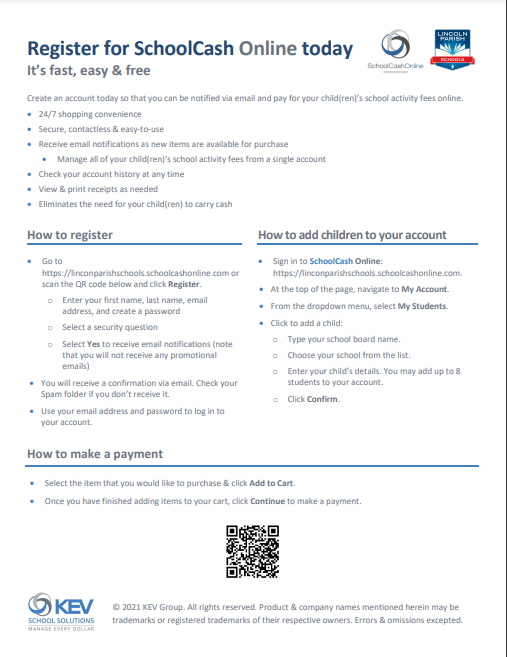 Reserved Senior Parking Spots will be on sale at Senior Prep Day. Access the application by going to this link
https://forms.gle/pq8UymXpMuAG5sTw6
. Please note that all you are doing is filling out your application at this time. You will choose and purchase your spot at Prep Day, but you must have the application filled out in order to purchase a spot. Reserved senior parking spots are $50, and the school parking tag is $10. These are two separate payments that you will need to make on Prep Day.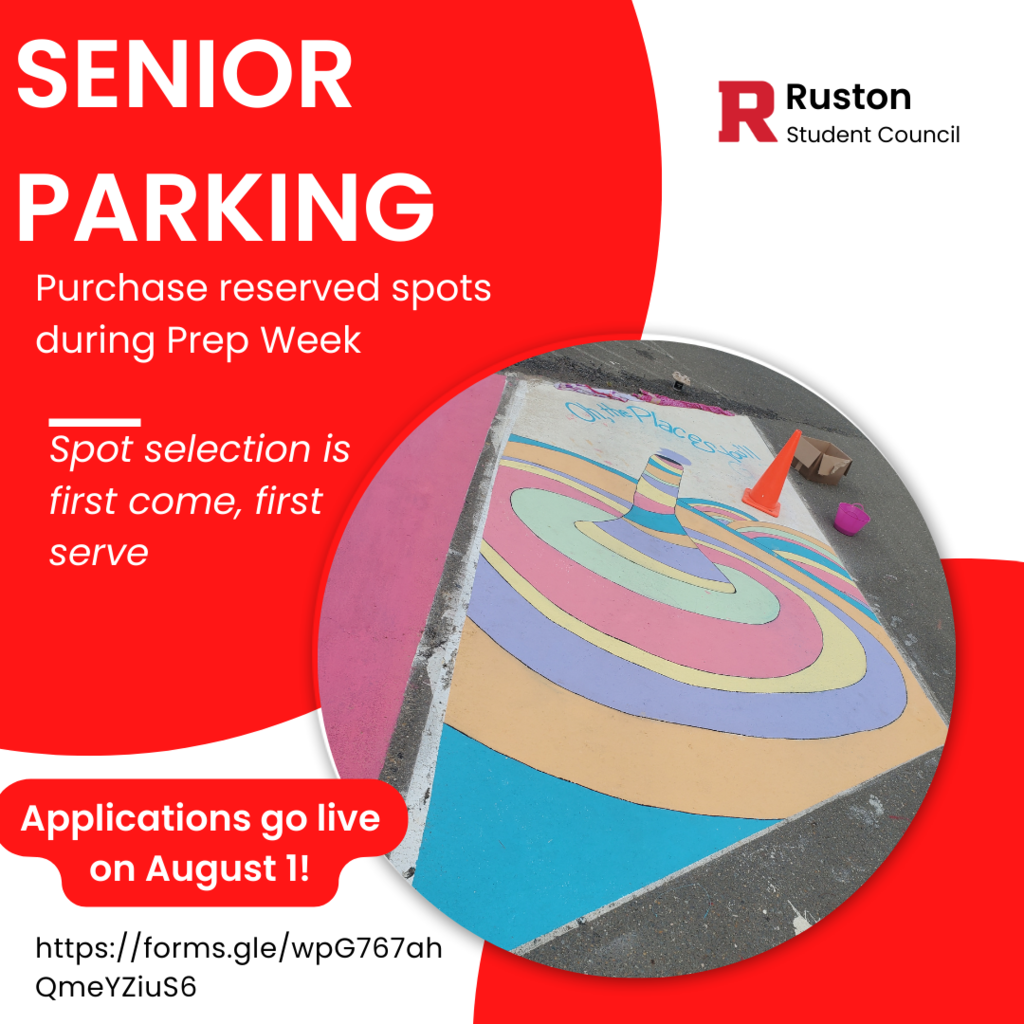 Date Correction: Apologies for the message sent out at 9:00 AM today with the incorrect date. Reminder: All English I Pre-AP, English II Pre-AP, and AP Language English III summer assignments are due tomorrow, Thursday, July 28 by 3:00 P.M. No late assignments will be accepted. No exceptions.

See the flyer for RHS Prep Day information. Hope to see you there!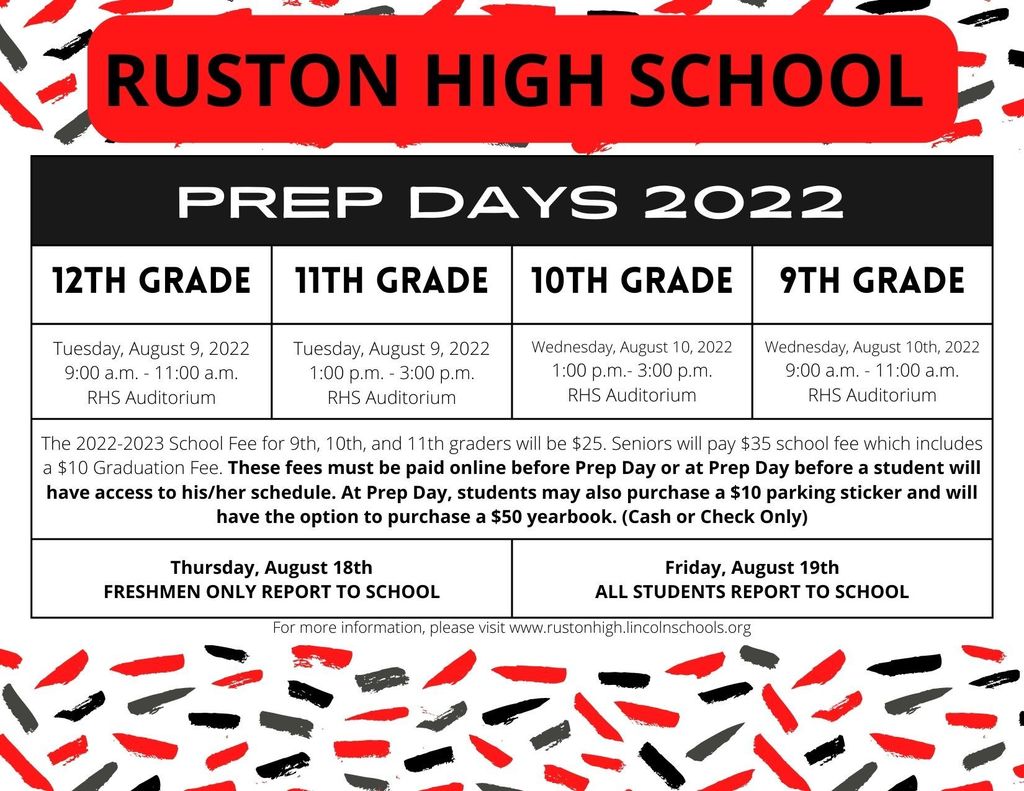 Reminder that English I Pre-AP, English II Pre-AP, and AP Language English III summer assignments are due by Thursday, July 28, at 3:00 p.m.

Advanced Placement scores are now available! Students may access their score with the online account they created in the fall. If you have trouble accessing your account, contact AP Customer Support at 888-225-5427. The school does not give out scores. Contact Diana Humphries at
dhumphri@lincolnschools.org
or 318-255-0807ext. 1334 with any further questions.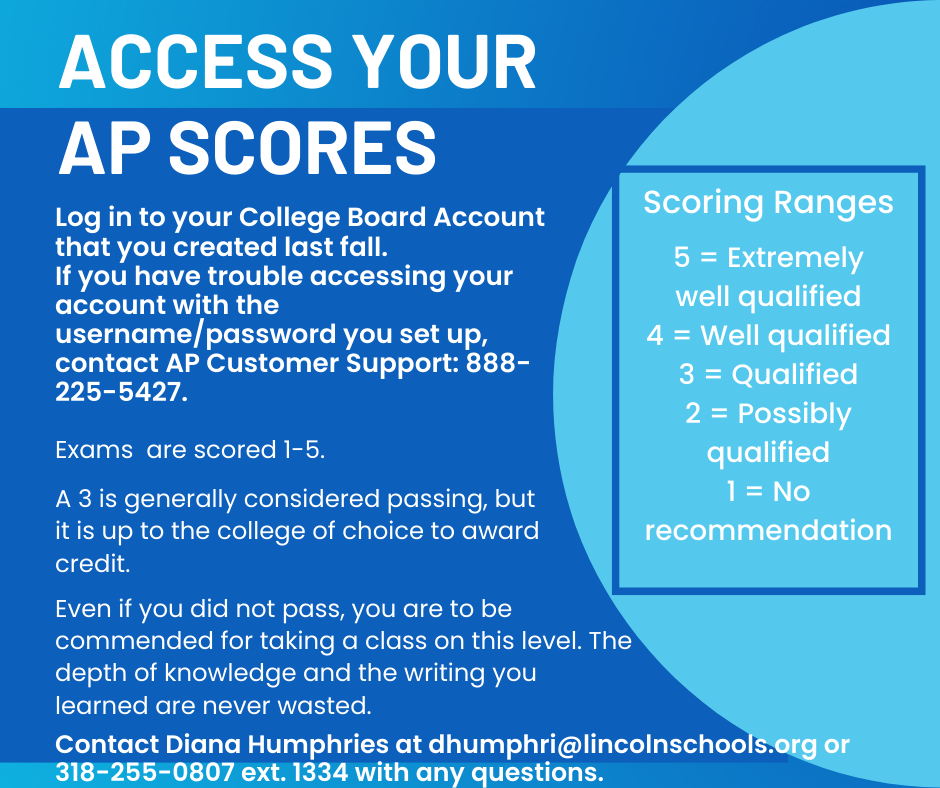 Click the link below to order RHS uniform t-shirts and sweatshirts. This is the last opportunity to have shirts shipped to your home before the start of school. The shirts will ship on July 25. There will be one more opportunity to order, but those shirts will be passed out at school at a later date.
http://tommystees.com/Ruston_High_School_22-23_Round_2/shop/home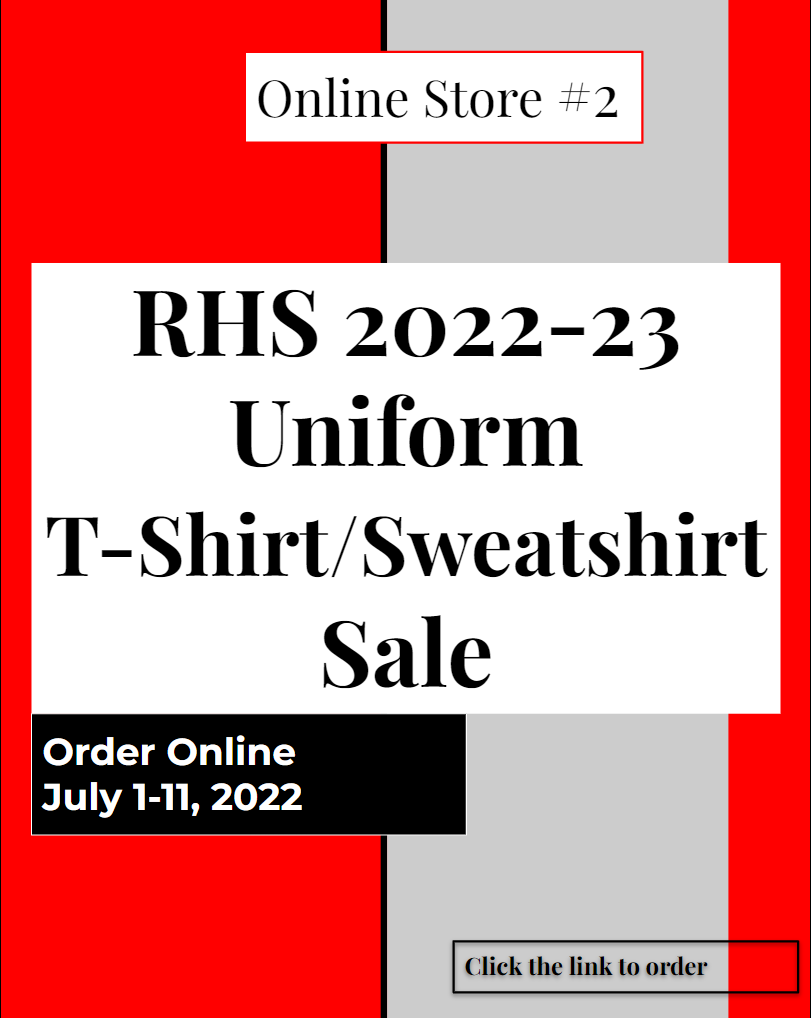 Advanced Placement Scores 2022 Students: AP scores will be released July 5 and can be accessed through the College Board account that you set up last fall. If you have trouble accessing the account with the username/password you set up, contact AP Customer Support: 888-225-5427. Exams are scored 1-5 and show how qualified you are to receive college credit/placement in the class. A 3 is generally considered as passing, but it is up to the college of choice to award credit. Even if you do not pass the test, you are to be commended for taking a class on this level. The depth of knowledge and the writing you learned is never wasted. 5 = Extremely well qualified 4 = Well qualified 3 = Qualified 2 = Possibly qualified 1 = No recommendation Questions? Contact Diana Humphries:
dhumphri@lincolnschools.org
or 318-255-0807 ext. 1334.